Yes, it's finally here, after all that waiting, the 5th (can you believe it?) annual celebration of the small story-form we all know and love.

Now, I know that you, like me, might be a little worse for wear after the last couple of days, and 2016 has taken a toll on us all, but today is not a time to worry about that. It's a time for Flashing!

Things kicked off earlier in the week, with a workshop in Winchester, and today we have events running all over the UK.
In Oxford, Virginia Moffatt will be flash-writer in residence all day at the Albion Beatnik Bookstore.
In Manchester there is a workshop being hosted by Verbose in Fallowfield.
In Cardiff there will be an Art and story event at the Chapter Arts Centre.
In Southampton there will be a flash workshop at the Art House.
And in Bristol there will be a workshop, a walk, and an evening of readings and the launch of our anthology.

Details of all these can be found at http://nationalflashfictionday.co.uk/events.html
And that's not all, as that webpage will tell you, on Sunday, in Dublin, you can join in Big Smoke's Flash Dash, on Monday we have an evening of readings in Manchester, again hosted by Verbose, and on Tuesday, in Belfast, you can learn to write flash with Paul McVeigh!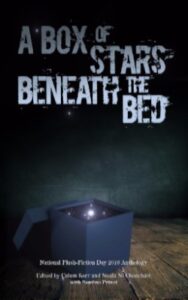 As mentioned above, at the Bristol event we are also launching this year's anthology, A Box of Stars Beneath the Bed. But if you can't make it to Bristol, the book is available on Amazon in:
Paperback - https://www.amazon.co.uk/Box-Stars-Beneath-Bed-Flash-Fiction/dp/1534712682
and, Kindle - https://www.amazon.co.uk/Box-Stars-Beneath-Bed-Flash-Fiction-ebook/dp/B01H7QRZ2K
(change the .co.uk to your local ending for your country's version of the store).
And, if that wasn't enough, the Flash is currently Flooding from our online journal, and through our Facebook and Twitter feeds - a story every 10 minutes for the whole 24 hours.
But wherever you are, and whatever you're doing, a big thank you from me and the team for all your support for NFFD. We never expected to be here for our 5th, and it's all thanks to you.
So, Happy Day and Happy Flashing!
Calum Kerr
Director
National Flash-Fiction Day