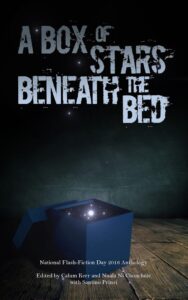 Kindle Edition

A Box of Stars Beneath the Bed: National Flash-Fiction Day 2016 Anthology is now available to purchase on Kindle!
For more information, and to purchase the Kindle edition, check out this link here: Kindle Edition.
Events

We have a huge range of events happening for National Flash Fiction Day this year, including workshops, flash walks, and readings.
For a full list of events to get involved with, check out the Events page on our main website by following this link here: National Flash Fiction Day events.
Running an event not listed here? Drop us a line and let us know and we'll share it with the world!
and More!

FlashFlood, our online journal which publishes a flash fiction every ten minutes or so throughout National Flash Fiction Day itself, is still open for submissions! We're looking for flash fiction of 500 words or fewer. For more information, checkout FlashFlood submission guidelines.