We're delighted and excited to welcome Jeanette Sheppard to the team as National Flash Fiction Day's official Artist in Residence.
Not only did Jeanette provide some images for one of last month's Flash Flood Advent Calendar writing prompts, but she has also produced the stunning skyline that now graces our website.
Where is this city and what is its flashy significance? More about this image will be revealed in the coming weeks.
In the meantime, here's a little more about the artist....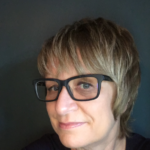 Jeanette Sheppard is a short fiction writer and sketch artist.
Her most recent flash fictions can be seen in The Nottingham Review, Ellipsis Zine and Flash Fiction Festival Anthology: Two. Other stories have been published in a number of literary magazines, including Bare Fiction, Litro and The Lonely Crowd. One of her stories flies through the air courtesy of a vending machine at Edmonton Airport in Canada. She has been published in two National Flash Fiction Day anthologies and shortlisted in TSS Publishing's Flash400 competition. She has also been a winner of the Mslexia Flashcard.
Jeanette's art revolves around sketching on streets, in buildings, cafes, fields, train stations, anywhere that she happens to be, in ink and watercolour. Every month she runs Sketch Coventry, a self-led open meet up. Recently, she has provided the artwork for Diane Simmons's collection of flash fiction about grief, Finding A Way, due to be launched in February 2019.
You can enjoy more of Jeanette's artwork and writing by visiting her website at jeanettesheppard.com or following her on Twitter at @InkLinked (writing) and @JinnySketches (art).