National Flash Fiction Day 2019 is about to kick off on Saturday 15th June, and we can think of no better way to get excited than to reveal this year's anthology title, cover, and full line up!
Introducing...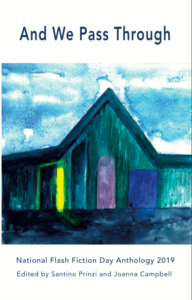 And We Pass Through: National Flash Fiction Day Anthology 2019
Knock, knock. Who's there? It must be the eight annual instalment of the National Flash Fiction Day (UK) anthology. This year, we're teeming with all kinds of stories about all kinds of doors, both physical and metaphorical. From advent calendars to Roman Gods, to crazy car chases and curse-sewn wedding dresses, pass through the open door with us to this wild and stirring anthology.
Edited by Santino Prinzi and Joanna Campbell
The title of this year's anthology is borrowed from an evocative story by Joy Manné, and this year's beautiful cover artwork has been created by our artist-in-residence, Jeanette Sheppard.
We're expecting the copies of the anthology to arrive from the printers very soon, so it won't be long before you'll be able to buy the anthology from our bookshop and dive in! The eBook will be soon to follow. If you have Goodreads, you can now add And We Pass Through to your Want to Read list!
We're now thrilled to share the complete contents of this year's anthology, which include special guest flashes from guest authors and the NFFD team, as well as our winning micros from our annual micro fiction competition:
| | |
| --- | --- |
| Santino Prinzi | MDF |
| Diane Simmons | Odette |
| Ingrid Jendrzjewski | Doors I Have Known, Abridged |
| Joanna Campbell | And then |
| Judy Darley | Skip Diving |
| Jeanette Sheppard | The Algebra of Bones |
| Kevlin Henney | Board in the Library |
| Angela Readman | Sleeping with Our Eyes Open |
| Susmita Bhattacharya | The Behavioural Pattern of a Thunderstorm |
| Vanessa Gebbie | The Door |
| David Swann | Crustaceans Are People Too |
| Meg Pokrass | Barista |
| Eilise Norris | A Person-Shaped Exit |
| Anne Summerfield | Advent |
| John Wheway | All Her Weight |
| Paul Thompson | All our dresses are white |
| Joy Manné | And we pass through, and we pass through, and we pass through |
| Karen Jones | Arabesque |
| Jenny Adamthwaite | Beacons of the Bay |
| Rebecca Field | Behind Closed Doors |
| Nancy Ludmerer | Complicity |
| Rachael Dunlop | Dancing with The Doors |
| Agnieszka Studzinska | Superstitious of Kissing in a Doorway |
| Jude Higgins | Every Good Story Deserves a Car Chase |
| Gita Smith | Falling Man |
| Rupert Dastur | Fire Escape |
| Cathy Lennon | For Display Purposes Only |
| Richard Holt | Grand Complication |
| Fiona Lincoln | How to see The Starry Night |
| Ruth Skrine | I Found God in the barn |
| Anika Carpenter | Less than a Mile from Home |
| Gabby Turner | Letting the Cold Out |
| Gary Duncan | Being Sharks |
| Emma Neale | Listen |
| Lucy Goldring | Listening from the Outside |
| Stephanie Hutton | Listening to the Library |
| Lynn Mundell | Little Temblors |
| Sarah Davy | Maybe Next Time |
| Emily Devane | Mum Tastes of Disappointment |
| Patricia Q Bidar | Neighbors |
| Alison Powell | Not her child, not mine |
| Elizabeth Lovatt | Observations from the Tube Looking Out onto Baker Street Platform |
| Anna Giangiordano | Peach Blossom Season |
| Alison Woodhouse | Press to Play |
| A B Kyazze | Rush Hour |
| Sarah Salway | Safekeeping |
| Sal Page | She Opened the Door in Her Dressing Gown |
| Jane Roberts | Sottotitoli |
| Mike Scott Thomson | The Advent of Us |
| Marie Day | The Catch |
| Caroline Greene | The Cupboard Door c. 1985 |
| Vivien Jones | The Doorbell Rings |
| Michael Loveday | The History of the Child and the Door |
| Jenny Woodhouse | The Intercity 125 from Weymouth |
| Robert Scotellaro | The Pencil |
| James Northern | The Sentinel |
| Debbie Taggio | Tomorrow Will Always Find You |
| Patricia Knight | Turn Right |
| Jo Derrick | Unlocking the Heart |
| Nuala O'Connor | Venus Moon |
| Nod Ghosh | We Fly at Night |
| Helen Rye | You Don't Have To Be An All-Knowing God Of The Roman Pantheon To Work Here (And It Doesn't Really Help) |
| Alison Woodhouse | For you, I am |
| Sara Hills | Havasu Falls |
| Nan Wigington | Charlie Walker's Thirst |
| Gaynor Jones | Great Sorrows Are Mute |
| Su Yin Yap | Nil by Mouth |
| Michelle Christophorou | His Name was Ash |
| Elaine Mead | Last Night I Saved a Moth from Drowning |
| Claire Boot | Three Strangers |
| James Burt | Behind Every Sign is a Story |
| Hollie Monhemius | Lists |