Welcome to the fourth in a series of interviews with this year's National Flash Fiction Day anthology editors and microfiction competition judges! This week, Diane Simmons chats with one of this year's microfiction competition judges, Susmita Bhattacharya, about her recent short story collection, performing her work, and historical flash, as well as her thoughts on judging our microfiction competition...
Diane: Your book of short stories Table Manners won The Saboteur Awards Best Short Story Collection category in 2019. Could you tell us a little about the book?
Susmita: The short stories in this collection were written over a period of around 12 years. I am a great fan of the short story form, and this collection really encapsulates everything that is important to me. They explore the human condition and social aspects of living in different cultures, the definition of home. I love travelling, and I think that the stories here travel around the globe as well. So yes, a very special book for me and all the more exciting that five of the stories are being serialised for Radio 4 Extra.
Diane: As one of the four micro competition judges this year, what excites you most about judging the competition?
Susmita: I think the most exciting part is that writers believe in themselves and are willing to send their work out to competitions. And it is a big responsibility and challenge, as a judge, to read fairly and give everyone a chance. I think everyone is a winner – just for writing that story. The question is, who will excite me the most with their words on that day. Who will leave me at a loss for words on that day? To get the opportunity to read a variety of stories and learn from them, admire the craft of the telling is always an exciting part of the judging process.
Diane: Do you enjoy performing your stories at writing events? Does knowing you might have to read it out loud ever affect how you write a story or do you ever alter the wording slightly before performing it?
Susmita: I love – LOVE – reading/performing my stories at writing events. I'm really quite shy as a person. So, you'll find me hiding in a corner at social gatherings, or just chatting with someone I know. But put me in front of a thousand people and ask me to read to them – I have no problem with that! Crazy, I know!
I don't think about the end result like reading/performing when I'm writing a story. No, it's the story and how it will affect the reader, who is reading it in their own quiet space, is what I aim for sometimes. Mostly, I don't think about the end result at all. I just want that story on the page. However, when I'm performing the story, I do alter/edit/add/lose words to fit either the time slot, or simply the mood I'm in. Personal copies of my books are just covered in alterations!
Diane: I notice from your website that you enjoy listening to Pink Floyd. Do you write with music on in the background or do you need complete silence?
Susmita: I don't really listen to anything while I'm writing. I need silence. That's why I don't like writing in cafes either – I get easily distracted. Libraries or my dining table work best for me. But I do like listening to music when I'm thinking about the plot, storylines etc. and it depends on what kind of story I'm plotting. Classic FM helped before I compiled a few different playlists to listen to. Pink Floyd features a lot, as does jazz and old Hindi songs. At the moment, I'm researching for the next novel, so I'm listening to a lot of Bollywood item numbers – do Google it 🙂 – and I promise, it's all in the name of research!!
Diane: If you were to write a historical flash tomorrow, is there any period of history that appeals to you particularly?
Susmita: I love historical flash, and I have written a few recently. I'm really interested in the freedom movement in India so around 1947, the partition and the Bengal famine. I love Indian art and architecture, music etc. among other things, and I'd have loved to have been a fly on the wall in the Mughal emperor, Akbar's, court. Or to be with the architect who designed the Taj Mahal. Or listen to Tansen singing Raag Malhar. I'd have loved to have been one of the cave painters at Ajanta. So, which one appeals to me most? I think the Ajanta cave paintings. Yes, I'd like to write a flash about that because seeing those murals and learning about their history changed my life in many ways.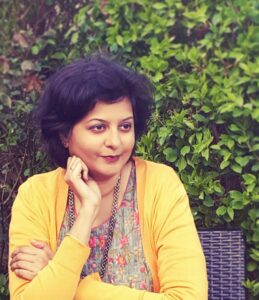 Susmita Bhattacharya grew up in Mumbai. She sailed around the world on oil tankers for a while before settling down in the UK. Her debut novel, The Normal State of Mind (Parthian, 2015) was long-listed for the Word to Screen Prize at the Mumbai Film Festival, 2018. Her short story collection, Table Manners (Dahlia Publishing, 2018) won the Saboteur Award for  Best Short Story Collection and was a finalist in the Hall & Woodhouse DLF Prize, 2019. Her short stories have been nominated for the Pushcart Prize and been featured on BBC Radio 4.
She teaches creative writing at Winchester University and facilitates the SO:Write Mayflower Young Writers programme in Southampton.
SUBMISSIONS ARE NOW OPEN for this year's National Flash Fiction Day Anthology and Micro Fiction Competition. Submissions close on 15th February 2020. For more information, please visit our Anthology and Competition pages.