Welcome to the first in a series of interviews with this year's National Flash Fiction Day anthology editors and microfiction competition judges! This week, Diane Simmons chats with one of this year's microfiction competition judges, Anne Summerfield, about her writing, teaching and process, as well as what she's looking for when judging our micro competition...
Diane: You are one of the four judges for this year's National Flash Fiction Day micro competition. Is there anything you are particularly looking for in a micro? Or think people should perhaps avoid?
Anne: I'd love to find something fresh and exciting in subject matter, language or form. Surprise me! My favourite micros often include precise, sensory details and feel like glimpses of fully developed worlds. I especially like stories which imply rather than show or tell – for me that is a characteristic of flash.
I'm not a fan of twist in the tail endings and prefer an ending that has some foreshadowing or at least feels like it belongs. Hard to describe and even harder to do! Also I'd prefer not to read tales full of misogyny or gratuitous violence.
Diane: You have been a tutor for The Open University and taught creative writing at a local arts centre. Is teaching something you enjoy?
Anne: I love the facilitating, coaching and encouraging parts of teaching. It is wonderful to see the spark of an idea catching hold when running workshops (all those heads down and pens moving!) and also to help people develop confidence in their work. I enjoy those aspects of teaching very much. Marking Open University assignments to tight deadlines was rather less fun, especially when the allocated time for marking included Christmas and New Year!
Diane: Do you have a favourite part of the writing process?
Anne: I love doing research, which is dangerous because it's so easy to spend far too much time researching, say, Victorian underwear only to find that my character is too poor to have any. I've had to train myself to fact check after writing some kind of rough and ready draft rather than start with a heap of reference books or Google. I also love editing, and again have to keep myself in check so that I don't start editing too soon and waste loads of time fixing paragraphs that come out next draft.
Diane: I particularly admire your story 'Afterwards' published in Things Left and Found by the Side of the Road. Do you draw from your own life much when you are writing?
Anne: Thank you for saying you admire that story, Diane. It was very emotional to write and one of the most autobiographical things I've written, though there are aspects of it which are pure fiction. I don't think I'd ever have written it without Kathy Fish's Fast Flash. The speed of Kathy's course means having very little time to research or doing the thinking necessary to make things up. And the way Kathy runs the workshop means it provides a nurturing and supportive space. I'd recommend Fast Flash to anyone who wants to develop their flash fiction.
To answer the question, it depends very much on the individual story how much I draw from my own life. Some stories start from a personal experience or something I've been told or overheard but others seem to arrive from a different place – out of the ether? I have another story in Things Left and Found by the Side of the Road called 'Mr Ono Makes Bonseki' which was entirely written from research and has nothing from my life at all.
Diane: If you could be the author of any flash fiction ever written, which flash would you choose?
Anne: Just one? There are so many flashes I admire and would love to have written myself! Okay, I'm going to choose one of the first very short stories I loved and which I've continued to love ever since. It was written before the term flash fiction came into being but is 650 words long so I think it counts! The story is 'Girl' by Jamaica Kincaid, which is online here at https://www.newyorker.com/magazine/1978/06/26/girl and anthologised widely.
A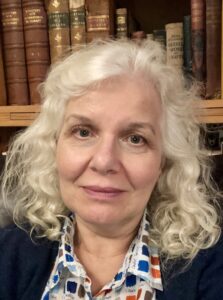 nne Summerfield gave up working as a technical writer in the computer industry to study for an MA in Modern Fiction at Exeter University. She taught Creative Writing at a local arts centre and for the Open University. Last century she won an Asham Award and a Jerwood/Arvon New Writing bursary and had stories in Virago and Serpent's Tail anthologies and broadcast on BBC Radio 4. More recently she's mainly written flash fiction with work published by Jellyfish Review, New Flash Fiction Review, Spelk, Ellipsis Zine, Bending Genres, Hobart and Flash Frontier among other places. She's had flash included in Nothing Is As It Was (Retreat West), the three most recent National Flash Fiction Day anthologies (Sleep is a Beautiful Colour, Ripening and As We Pass Through) and short and longlisted for the Bath Flash Fiction Award and published in Things Left and Found by the Side of the Road (Ad Hoc). She's been a first reader for the Brighton Prize and The Nottingham Review. She tweets infrequently as @summerwriter.
SUBMISSIONS ARE NOW OPEN for this year's National Flash Fiction Day Anthology and Micro Fiction Competition. Submissions close on 15th February 2020. For more information, please visit our Anthology and Competition pages.