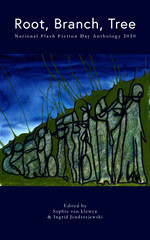 Join us from 7 – 10 pm BST for the virtual launch of the 2020 NFFD Anthology, Root, Branch, Tree.
Readings from the anthology will be posted on our YouTube channel and we'll be celebrating with chat and virtual toasts on Twitter and our dedicated Facebook event. All welcome!
And of course, don't forget to pre-order the print edition or buy an ebook at the NFFD Bookshop!