National Flash Fiction Day is volunteer-run.  A huge number of people are involved every year in making NFFD what it is; here are just a few of them.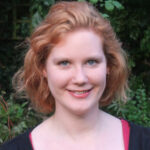 Ingrid Jendrzejewski, Co-Director.
Ingrid received a BFA in Creative Writing and BA in English Literature at the University of Evansville before going on to earn a BA and MSci in Natural Sciences (Physics) at the University of Cambridge.  At the University of Evansville, she served as non-fiction editor, then editor-in-chief of the Evansville Review.  Since graduating, she has worked as everything from researcher, copy-editor, researcher, arts administrator, producer, researcher and game content developer for a popular mmorpg, where millions of players interacted with the content she wrote and coded.
Ingrid currently serves as the Editor in Chief of FlashBack Fiction, and a flash editor at JMWW, and has served as both non-fiction editor and editor-in-chief of the Evansville Review.  She has published over 100 shortform pieces and has won multiple flash fiction competitions, including the Bath Flash Fiction Award and the A Room of Her Own Foundation's Orlando Prize for Flash Fiction. Her short collection Things I Dream About When I'm Not Sleeping was a runner up for BFFA's first Novella-in-Flash competition. She has been nominated for a Pushcart Prize, Vestal Review's VERA Award, and multiple times for Best Small Fictions.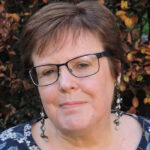 Diane Simmons, Co-Director.
Diane studied creative writing with The Open University. She is a co-director of National Flash Fiction Day in the UK and a director of the UK Flash Fiction Festival. She is a reader for the Bath Short Story Award, an editor for FlashFlood and has judged several flash competitions, including Flash 500 and NFFD Micro. In 2020, she will be co-judging New Zealand's Micro Madness competition. Widely published and anthologised, Diane has been placed in numerous short story and flash competitions. Finding a Way, her flash collection on the theme of grief, was published by Ad Hoc Fiction in 2019 and was shortlisted in the Best Short Story Collection category of the 2019 Saboteur Awards. Her historical flash fiction novella, An Inheritance, was published by V. Press in early 2020 and was shortlisted in the 2020 Saboteur Awards Best Novella category. You can read more here: https://www.dianesimmons.co.uk/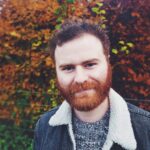 Santino Prinzi, Co-Director (on hiatus)

Santino is a former Senior Editor and current Consulting Editor for New Flash Fiction Review, and is part of the founding team behind the annual Flash Fiction Literary Festival, a literary festival dedicated solely to flash fiction.
His latest flash fiction pamphlet, There's Something Macrocosmic About All of This, was published by V-Press in 2018, and his debut collection of flash fiction, Dots and other flashes of perception, was published by The Nottingham Review Press in 2016.
He has been nominated for the Best Small Fictions anthology, the Best Microfiction anthology, and the Pushcart Prize. He has won or been long or short listed in various awards and competitions.
As well as an editor and writer of flash fiction, and a writer of prose and prose poetry, he's a reviewer of flash fiction collections. His reviews have appeared or are forthcoming in Flash: The International Short-Short Story Magazine, SmokeLong Quarterly, and Bath Flash Fiction Award. He is a former Associate Editor for Vestal Review and a former flash fiction editor for Firefly Magazine.
He was born, grew up, and works in Wiltshire. In 2018 he graduated from the University of Bristol with an MA in English Literature, and in 2016 he graduated from Bath Spa University with a first class BA in English Literature with Creative Writing. His main areas of interest other than flash fiction and short stories include Modernism, Contemporary Literature, and the Digital Humanities.
Jeanette Sheppard, Artist in Residence. 
Jeanette Sheppard is a short fiction writer and sketch artist.
Her most recent flash fictions can be seen in The Nottingham Review, Ellipsis Zine and Flash Fiction Festival Anthology: Two. Other stories have been published in a number of literary magazines, including Bare Fiction, Litro and The Lonely Crowd. One of her stories flies through the air courtesy of a vending machine at Edmonton Airport in Canada. She has been published in two National Flash Fiction Day anthologies and shortlisted in TSS Publishing's Flash400 competition. She has also been a winner of the Mslexia Flashcard.
Jeanette's art revolves around sketching on streets, in buildings, cafes, fields, train stations, anywhere that she happens to be, in ink and watercolour. Every month she runs Sketch Coventry, a self-led open meet up. Recently, she has provided the artwork for Diane Simmons's collection of flash fiction about grief, Finding A Way, due to be launched in February 2019.
jeanettesheppard.com @InkLinked @JinnySketches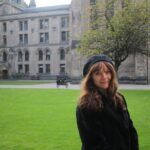 Claire Thomson, Social Media Co-ordinator. 
Claire is currently an Editorial Assistant at Vintage Books. Before this, she worked in a press office and for a feminist literary magazine. From Scotland, she studied English Literature at the University of Glasgow and now lives in North London.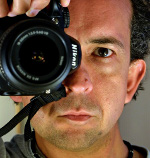 Kevlin Henney, Events Organiser
Kevlin Henney writes shorts and flashes and drabbles of fiction and books and articles on software development. His fiction has appeared online and on tree (Daily Science Fiction, Litro, New Scientist, Physics World, Spelk, Reflex Fiction, LabLit, Flight Journal and many more) and has been included in a number of anthologies (The Dark Half of the Year,North by Southwest, We Can Improve You, Haunted, Salt Anthology of New Writing, Ripening, Sleep Is a Beautiful Colour and many more). As well as having his work rejected and make no impression whatsoever on writing competitions, Kevlin's stories have been longlisted, shortlisted and placed, and he won the CrimeFest 2014 Flashbang contest. He reads at spoken word events, winning the National Flash-Fiction Day Oxford flash slam in 2012, and has performed his work on local radio (BBC Radio Bristol and Ujima). Kevlin has been involved in the organisation of the Bristol Festival of Literature and events for National Flash-Fiction Day. He lives in Bristol and online, where he can stalked as @KevlinHenney on Twitter, @kevlinhenney on Medium and @kevlin.henney on Instagram.