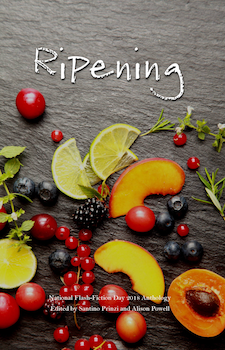 Ripening, the National Flash Fiction Day 2018 Anthology, edited by Santino Prinzi and Alison Powell, is available here.
This seventh annual instalment of the National Flash-Fiction Day (UK) anthology is overflowing with food-themed flashes. Satiate your hunger for fiction with these delicious stories by new and established flash fiction writers. The authors have cooked up a smorgasbord of entertaining, moving and tantalising flashes for your reading delight. From fudge to oysters, apples to mangoes, gingerbread to (of course!) cake, there's something in this anthology for everyone to sink their teeth into.
Authors include: Tara Laskowski, Christopher Allen, Nancy Stohlman, Frankie McMillan, Meg Pokrass, Nuala O'Connor, Robert Scotellaro, Alison Powell, Kevlin Henney, Jude Higgins, Tim Stevenson, Angela Readman, Megan Giddings, Joanna Campbell, Diane Simmons, Ingrid Jendrzejewski, Calum Kerr, and Santino Prinzi.